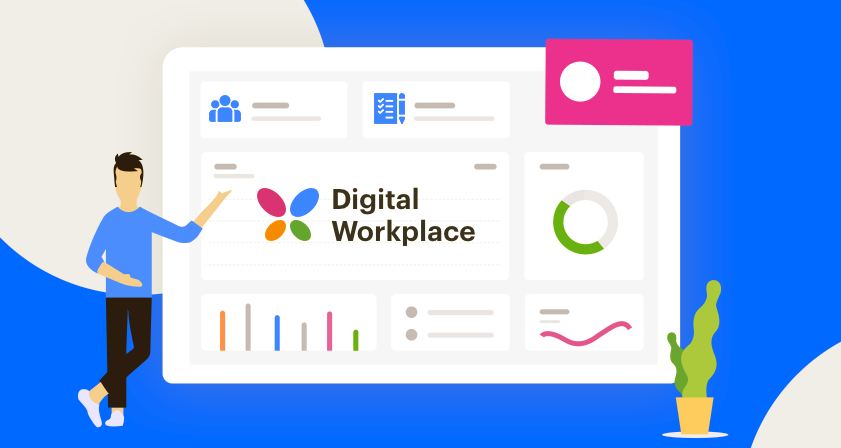 Understanding The Digital Workplace
Well-connected global teams
Business needs are expanding and the globe is now well connected with almost every country enjoying good internet speed. This transformation enabled the entities to scale their businesses and hire local teams who can connect and work on the same project rolled out in multiple countries.
Many of the team members may work with colleagues from different cities, countries, or even continents. Each one is in a different time zone and speaks their native language. Still, they are unified with the purpose of their work and connect at all levels to get their message across when coordinating with them. 
Digital workplaces empowering teams
Before the pandemic, in-person workplaces were more prevalent. The onset of coronavirus forced governments to issue guidelines for social distancing. Workforces globally were required to work remotely from their homes. Two years down the line, as public movement is becoming normal, workforces have adapted to hybrid workplaces. Be it in-person, remote, or hybrid, workplaces need digital solutions to aid process management and efficient use of resources and manpower.
 With the acceleration of AI and ML-based tools, businesses cannot afford to lose their customer base built over years to competition that has embraced technology and empowered their employees with digital workplace solutions.  
Insights into the scope of digital workplaces
The way employees communicate, coordinate, and work on projects has changed from tangible places to virtual mediums. The digital workplace's common parlance is explained as virtual comparable to the physical workplace. However, it is not that simple and the need to understand the scope of digital workplaces is imperative before implementing or upgrading one.
The evolution from the in-person work culture that was predominant since the industrial revolution to the current workplace model where employees from multiple locations connect and operate seamlessly is not limited to simple automation or digital tools. The essence of the effectiveness of digital workplaces is in their ability to stay relevant.
When technology, enablers, or end-users do not evolve continuously to stay compatible, purposeful, and relevant, digital workplaces will not turn obsolete and aid in enhancing employee experience in an organization. The digital workplace is defined by industry experts for this reason, as a business strategy to boost employee engagement and agility akin to consumerism.
Benefits of digitization of workplaces
Digital workplaces were the reliable tools that helped companies exercise the option to enable workforces to log in from homes during the heights of the pandemic. Many people who felt ambivalent about remote working earlier and were precarious about its effectiveness are now advocating the concept.
Digitization aids the hybrid workplace model which is extensively becoming the preferred format of working for a large number of organizations. The possibility of work-life balance which removes the limitations of both in-person and remote workplace models is highly effective in hybrid workplaces. Inadvertently the reliance on digital workplace solutions in hybrid workplaces makes them more agile. Besides the flexibility of working from home or remote locations offers less friction and no tension about commute or traffic. Employees who have specific periods when their energy levels are high can be more productive. For instance, early risers can start working as early as 5 AM and night owls can work late. These factors act as moral boosters for employees and enrich their experience. 
Minimum cost maximum benefit
Business scalability through operational expansion is possible through penetration into different markets. First, to get a foothold and then to establish their presence, companies hitherto spent a lot of money on brownfield and greenfield expansions. However, decentralizing operations to reduce overheads has been possible through digital workplaces. Now, there is no need to open big spaces and foot real-estate bills to operate regional offices. Local talent can work from remote locations and collaborate with the zonal or head office. Digital workplaces can help teams across countries communicate effectively and then work individually as per their local time zone.
Workforces often complain about communication gaps when collaborating with different teams located in different regions. Often because of the distance, our assumptions may hinder the effectiveness of the communications. It is possible that what may be very obvious to us is unknown to a team member located on a different continent for any reason. Digital workplaces overcome any gaps in communication and give access to team members even when they are outside. Often glancing at work-related information and reviewing it helps people pitch in their non-working hours for a few minutes. Such instances save time and duplications of workflow.
Knowledge preservation and sharing
Whenever an employee quits the organization, a significant asset with relevant experience and knowledge is lost. Even if a desirable replacement is found, there will be a time lag because of initial adjustment and acclimatization issues of the new hire. In a digital workplace, any issues related to knowledge gaps arising out of attrition-related hindrances are easily stunted. Softwares like knowledge management systems help organizations in accumulating and storing knowledge in an accessible format. In this manner, the workflow is not dependent on any key personnel's presence and work is not stagnant when someone does not show up.
Efficiency through automation
Digital workplaces automate the process of an organization that is associated with manual and repetitive work. For seamless workflow, automatic routing is extended to laborious processes that involve a lot of paperwork. This increases the speed and efficiency of deliverance and reduces human errors as the automation is back-tested through algorithms before being rolled out.
Conclusion
Before upgrading or implementing digital tools, due diligence to map the business goals and objectives that drive the effort with the new technical transformation is necessary. An entity should be able to comprehend how the change will impact the business. If the projections are not certain, then it is necessary to take professional help from experts who handle digital workplace solutions before committing large resources for digital workplaces.
Like any major change, digital workplaces also aim at improving employee experience which is very important to enhance the consumer's perception and sales of an organization.