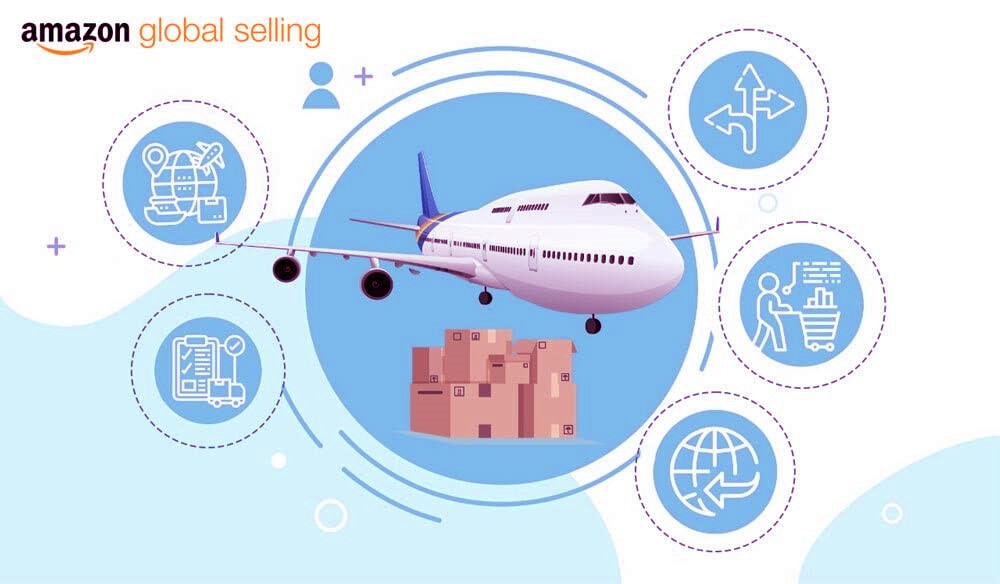 Why Is Exporting From India on Amazon Becoming Popular?
When the world population was expanding at a pace, industrialization took the responsibility of balancing the demand and supply. But to withhold the concept of nurturing a society and to keep the distant people and places connected to each other, globalization happened.
Isn't this amazing how every individual in the world gets to see and experience the culture and innovation existing in every nook and corner of the globe? Export is a subset of the wider bracket of globalization, that allows legal trading between different countries to make sure that the best of both worlds reaches both the worlds. Ever since this idea happened, exporting businesses have gained huge popularity. Later, in the wake of advanced internet and various technologies, ecommerce trading became the new king of the rising era. It is still undefeatable because of the convenience ecommerce shopping comes with. To further the convenience for the sellers, Amazon provides an ecommerce export program, Amazon Global Selling, which allows the MSMEs sitting in any corner of the world to sell their products/services across the globe through Amazon. 
India has a diverse culture, immeasurable talent and innovation, and high production capacity which empowers the nation to rank 2nd in the list of highest exporting countries in the world. To increase this huge exporting potential, Amazon allows all the big as well as small sellers across the country to register themselves with the global selling program and export from India.
Ecommerce is no longer about buying and selling; it's about expanding your business in new areas to make your business more efficient, stable, and profitable. Amazon has a reputed international presence that makes it easier for all the sellers to choose their ideal marketplace and start an export business with Amazon.
64% of Internet users in India shop from mobile devices. With buying becoming this quick and easy, selling must also become quicker and easier. Check the following reasons to know that if you export from India with Amazon, what are the perks: 
1.Helps in increasing the sales easily:
This is natural that if your continue exhausting the same market over and over for decades, the profits become stagnant. It is obvious that when you analyze the marketplaces where your products are highly demanded, then there are chances that you will have increased sales upon exporting to those markets.
There is also a myth that selling on Amazon as a third-party seller is not profitable. But the fact of the matter is that 50% of all the items sold through the Amazon platform each year are by the third party sellers. This implies that there is a good amount of business that goes to the third party sellers. Moreover, records state that, in 2016, the revenue for Amazon sellers went as high as 23 billion USD.  
With more and more people having an Amazon Prime account, Amazon is the most trusted ecommerce platform, both for buying as well as selling.
2.Expanding business internationally made simple:
Currently, Amazon has 15+ global marketplaces where you can easily export from India. It is a perfect starting point for any business that wants to expand across the world without having to make any physical investments in each of the countries. Moreover, Amazon offers state-of-the-art tools for managing your e-shop with Amazon. You can easily list your products and do marketing to earn all the profits you aim for.
3.Amazon's Reputation and Global Reach:
Let us understand this with an example. Let us suppose you want to buy a brand new car. You know a lot of sellers who can provide you with the car you want at the market price. One day, one of your very trusted resources introduces you to a seller who can give you the same car that you want at the best price.
You will naturally be more inclined towards buying your car from this person to whom your friend introduced you. REASON? Reputation
You already know and believe that the person who has shared the reference is trustworthy and if in the future something goes wrong in the deal, your friend can help you get a way out.
Thus, people across the world believe in the quality delivery and services of Amazon and thus, any seller associated with the brand gets the benefit of trust without having to invest a lot in advertisements and individual brand awareness.
4.Ease in Fulfillment, Shipping and Logistics:
The best part of the Amazon Global Selling program is that it covers all the obstacles that you might have to face otherwise in establishing an export business from India. This ecommerce king has more than 110 fulfillment centers that allow organized storage of your products before they get shipped. They ship your products safely and deliver them. Even in the case of returns, Fulfillment By Amazon handles all the pickup and refund formalities, adding further to the convenience. Amazon makes the global reach easy with its reliable shipping and logistics services as well.
With the benefits clearly stated, it is wise to start your dream business right away with Amazon. You can sell internationally with a single click, and receive payments by Amazon Global Payments. They consult with sellers before and after each order is shipped and provide complete support and guidance before, during, and after shipment. Register as an Amazon seller today.